An All-in-One Digital Marketing Agency for an Omnichannel World
Let's learn how a full-service marketing agency can help you stay in front of your audience across markets and platforms.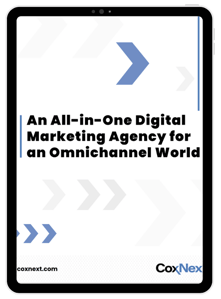 As the digital landscape changes, it's important that your advertising strategies evolve with it. If you feel it's not something you have the time or expertise to manage, that doesn't mean you can't stay in front of your audience.
With an all-in-one digital marketing agency, you let the experts do the research, map out the strategy, and implement it across platforms.
The omnichannel world of marketing spreads far and wide, and you want to ensure your brand is front and center with your target market. Our latest guide will share help you learn more about the ins and outs and the next steps to get started.
What to expect:
What is an Omnichannel Strategy?
Hiring an Agency vs. Keeping In-House
Getting Started
And more!
Fill out the form to receive your FREE copy today!