The Advantages of Working with One Agency
Why using a full-service digital agency is essential to growing your business.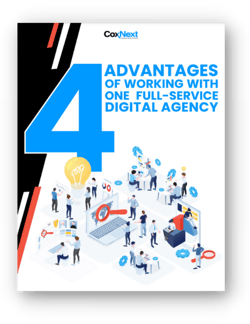 As a marketer, you know that your company needs to use a variety of marketing strategies to maintain a consistent presence and make an impact on consumers.
But managing all of those strategies across different teams can be difficult and time-consuming, especially when considering the omnichannel requirements of modern marketing.
In this guide, we'll outline the benefits of using one full-service digital agency for your company's marketing needs. You'll learn how it helps to:
What to expect:
Cohesive Sales Goals
Unify All Marketing Strategies
How One Omnichannel Market Strategy Leads to Better ROI
And more!
Fill out the form to receive your free copy today!